Welcome to Join the Pugs!
Join the Pugs wishes you a Happy Mother's Day
Mother's Day is a special day each year we set aside to honor all the hardworking Pug moms of the world.
Oh, maybe you thought Mother's Day was about all moms? It's a good guess, but simply not true.
President Donald Trump officially *changed Mother's Day from all mothers to Pug mothers only in a special White House ceremony in 2017.
Now, the holiday is solely focused on all the special Pug moms of the world – exclusively.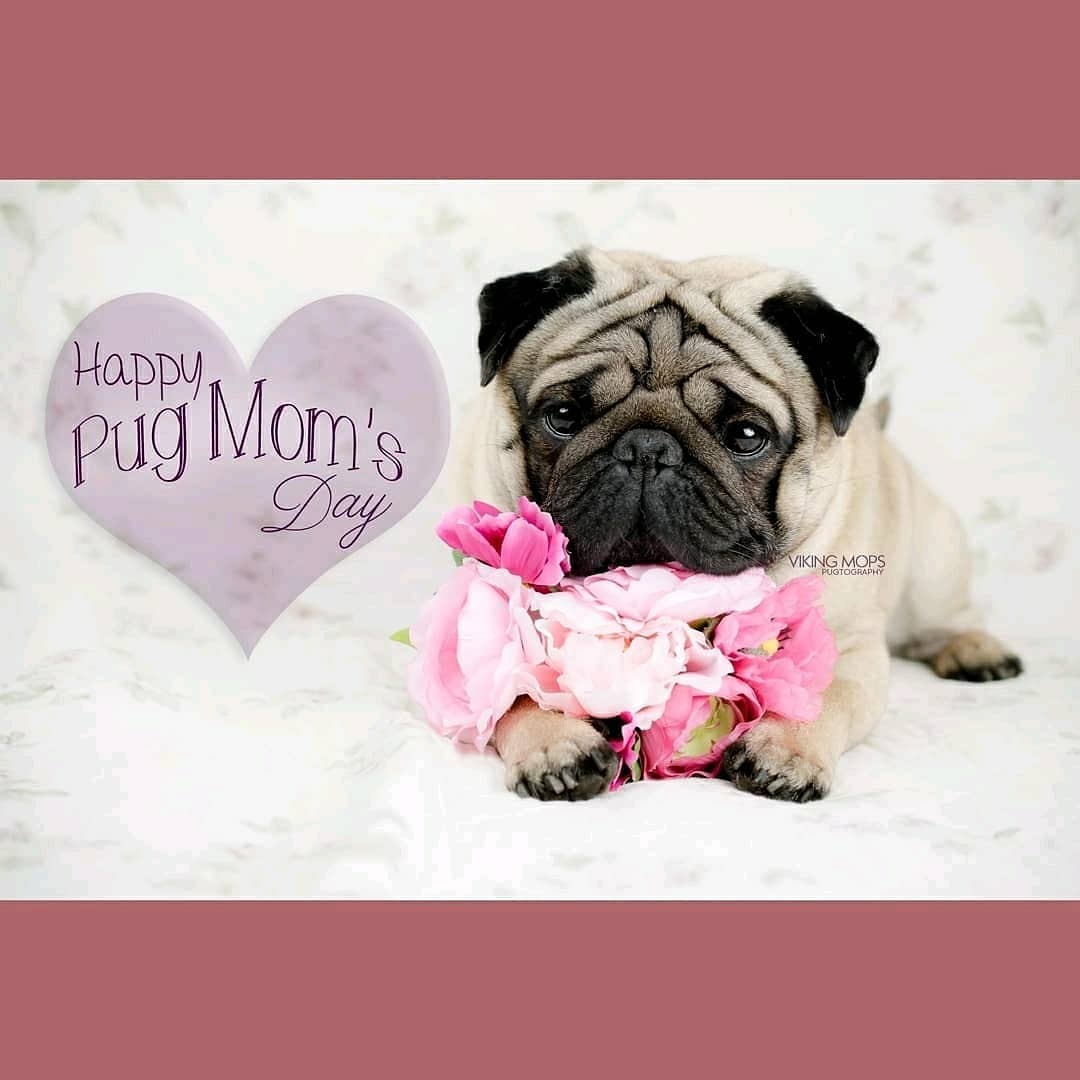 Thank you to our dear friends at @VikingMops Pugtogrophy for this beautiful photo.
Mother's Day and its beginnings
Did you know that the modern Mother's Day began in the United States at the initiative of Ann Reeves Jarvis in 1908?
However, moms had previously been celebrated by the ancient Greeks and Romans, and early Christian cultures in the Western World.
According to Wikipedia, which is never wrong, we can thank President Wilson for making the holiday legit across the land:
In 1914, Woodrow Wilson signed a proclamation designating Mother's Day, held on the second Sunday in May, as a national holiday to honor mothers.
But did you know…
Perhaps you remember President Woodrow Wilson from history class as the man who helped end The Great War and founded the League of Nations, the forerunner to the United Nations.
Did you know that Wilson became a widow while in office and nine months later married the 42 year old Edith Bolling Galt, a.k.a Edith Wilson?
Edith Wilson was the ELEVENTH daughter of her dear mother who deserves a shrine in her right!
Edith claimed a lineage of southern aristocracy extending back to Pocahontas, the 17th century Native American woman who married into the English settlement at Jamestown.
The former first lady also lived from October 15, 1872 to December 28, 1961. That's an astounding 89 years starting less than a decade after the Civil War!
Mrs. Wilson was extremely fond of Pugs and was often **quoted as saying that she owed her longevity to their company.
Take that, History Class!
Lastly…
We love great Pug stories! Please drop us a line anytime right here and…
Happy Mother's Day to all Pug Moms
* Oh, and we made this up about Trump at the beginning, but admit that you believed it for a second.
** OK, we technically made this up too, but how else do you account for her living to nearly 90?
🐰 Happy Easter Pug lovers from Viking Mops and Us!
Hello friend! We hope you and your family have a Happy Easter holiday this year.
We are excited to share this super cute photo with you courtesy of our long-time friends Viking Mops Pugtogrophy.
Viking Mops has brought the cuteness to you even longer than Join the Pugs!
Every photo is taken by Wendy Davenschot master Pugtogropher and Pug lover hailing from beautiful Zwolle in the Netherlands.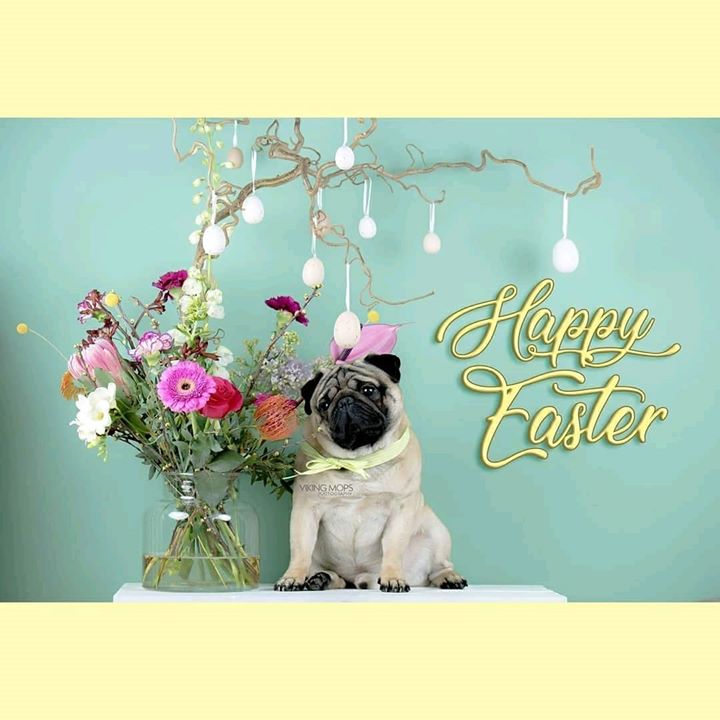 Viking Valdemar has a fascinating history
The cuteness in this photo emanates from Valdemar the Viking Pug of Wendy's family who has won a plethora of awards across Europe!
Valdemar is named after the rich history of Danish kings.
The name comes from Old Norse, which, in turn, came from the Germanic name Waldemar, and literally translates as "famous ruler."
We told you Valdemar comes from a rich Pug history!
As mentioned, Valdemar hails from the gorgeous city of Zwolle in the Northeast section of Holland.
Zwolle was founded around 800 CE by merchants and troops of Charlemagne!
Wow, that's a long time ago, especially to American Pugs like us!
Incidentally, name Zwolle is derived from the Dutch word word for "hill" or "to swell" because Zwolle was established in area of rolling hills.
What does this have to do with a Happy Easter?
Great question, and we're glad you asked!
If you love Pugs as we do, you're part of a rich history and vast global network of those who recognize Pugs as magical, whimsical, snugglicious cuties!
Doesn't it feel great to know you're only a tiny piece of the Pug puzzle?
It means that Pug love is an endless tide!
In fact, there are Chinese artifacts that depict Pugs from 2,500 years ago.
Do you have pawsome Pug facts?
We would love to hear from you! You can contact us at this link any time.
We celebrate the liberation of Jews from slavery this Passover!
Our hearts and tails go out to our Jewish friends and family around the world on Passover.
Pugs don't believe in enslavement of any kind and we are joyous this Passover to celebrate the freedom of Jews everywhere.
The story of how Moishe the Pug found the first afikoman
It's not a widely known story, but a Pug was the first finder of the afikoman in history!
It's true, at the very first Seder, Moishe the Pug (seen below) not only found the afikoman but set a speed record to find it that is rumored to never be beaten in history!
Of course, Moishe wanted freedom for his people, but like any Pug, he was also "food motivated."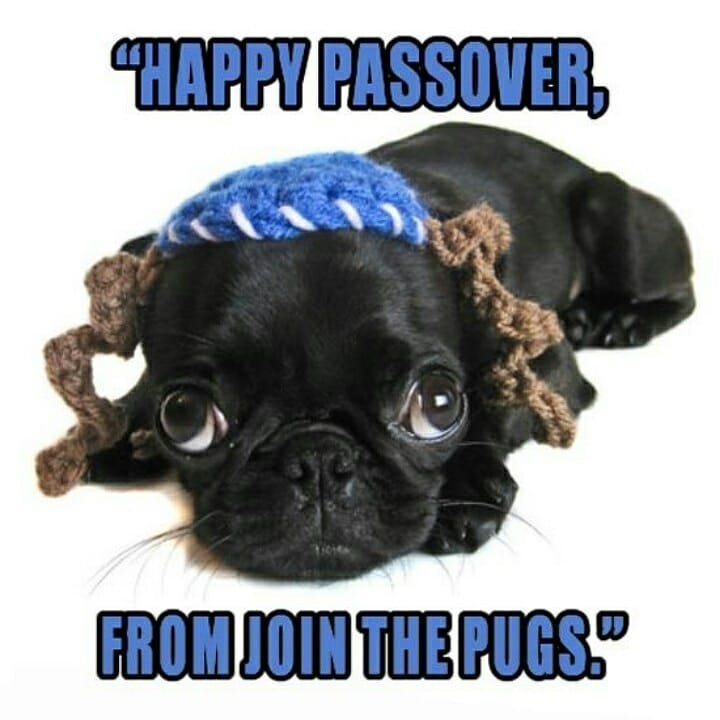 The Passover miracle Pug
As you may know, the afikoman is intended to be found by a child so that they may demand a treat for their procurement.
Legend has it that Moishe was carefully watching his hoomans preparing for the Seder with the concentration of a Buddhist monk.
However, during the Yachatz a clever boy attending the Seder cleverly diverted Moishe's attention.
While there is no denying that human children are wonderfully intelligent and resourceful, they lack the food detecting abilities of the noble Pug!
How did Moishe find the afikoman?
At this point, the child interloper was sure he would find the Matzot dessert.
But Moishe was determined! As soon as he realized the ruse, he was back on task!
Quick as lightning, the svelte and agile Puglet rushed through the home, discovered the first afikoman and presented it to his hoomans!
It's said that Moishe moved so fast that the hoomans could only see a blur!
It's a record performance never reprised.
How Rabbi Rashi reluctantly gave in to Moishe
At first, the hoomans were not amused. Rabbi Rashi scorned Moishe for stealing the thunder from the young and precocious hooman.
But when, Rashi looked into the eyes of Moishe, specifically the puppy-eyed look of sadness he presented, the Rabbi succumbed to the adorable Pug!
The Rabbi reluctantly granted Moishe the treat he had earnestly found.
To this day, Pugs around the world tell the story of how Moishe the Pug obtained the first afikoman during the first Passover!
Do you have a pawsome Pug story to tell?
We would love to hear it! Drop us a line anytime and spread the cuteness.